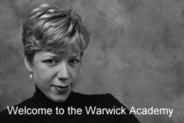 Welcome to the world of cosmetology,
one of the fastest growing industries in the world.
This website is here to prepare you for your great adventure in the career of beauty culture. Here at Costin's, we want to help you reach your dream by providing you with the quality education and proper training to put you on top of the world of cosmetology. See our Curriculum to learn about the exciting courses that the Warwick Academy has to offer. Interested in more information? Contact us, or have us contact you for more information on how to begin your career in cosmetology, manicuring, or esthetics. Already prepared to make the final step? Costin's makes it easy to apply with our downloadable application form.